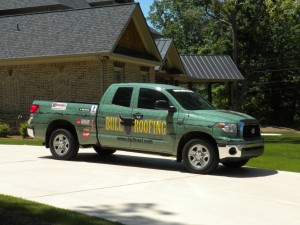 Call Bull Roofing today for your free estimate, we will have an associate available to meet with you at your earliest convenience. Bull Roofing is a locally owned company, fully licensed and insured to meet all your roofing needs. We specialize in storm damage, both interior and exterior, as well as new roof construction. We will partner with you to make sure you have a complete roofing system that will work best for you. Bull Roofing provides the maximum extended warranties for the complete roof system to include starter strips, shingles, ridge vent and deck protections. In addition, we also have a standard 10 year reroof/no leak labor warranty. Compare our work and warranties.
Feel confident about doing business with Bull Roofing. Bull Roofing is owned and operated by Jeff Rolader and is a sister company to Rolader Construction. Not only are we able to access your roofing needs, we are fully licensed and insured to perform any interior or exterior work that might need to be completed in your home. As a sister company to General Contracting we have all the knowledge concerning your roofing and home improvement needs.
Here at Bull Roofing we are more than happy to assist you in the roof process whether it be an insurance claim or just the need for a new roof. In the insurance process we will first come out to inspect your roof to verify the damage and if it is merited we will recommend you call your insurance company. At that point, an adjuster will be assigned to you and will contact you within 2 to 3 days generally to set up an appointment for inspection. We will then meet your adjuster on site to verify your claim.
Please refer to the insurance company contact section if need be for your insurance company. If you are looking to get a new roof due to age or any other reason we will be happy to assist in the color selection and explain all the various stages and options involved with a new roof.
Please refer to the products section for an example of the products we use.