There are numerous responsibilities that come with owning a home. Knowing that you have a roofing company you can trust gives you a sense of comfort. We specialize in storm damage, exterior to interior as well as new roof construction. Bull Roofing provides a complete roofing system with the maximum extended warranties, this includes starter strips, deck protection, shingles and ridge vents. In addition, we also have a standard 10 year reroof/no leak labor warranty. Many roofing companies may try to sell you on replacing your entire roof.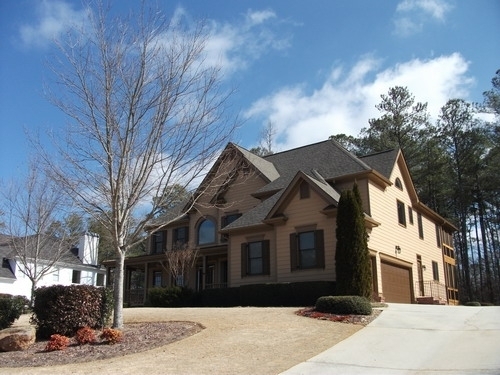 Bull Roofing Contractors treat every home as if it were their own. We look at every aspect from the gutters to the wood condition to the roof. A comprehensive, professional inspection is a quality guarantee. Regular roofing maintenance and inspections are a way to avoid major repairs and expensive roof replacements.
SHINGLES
We use both GAF and Owens Corning shingles. Based on what you are looking for, we will use either of the two brands. Both brands are industry standard and constructed of high quality materials and have great warranties. There are many types and colors and we will work with you to choose the one to match your home. The styles and designs include: • 3-Tab Royal Sovereign ( 25 Year Limited Warranty) Many color options to choose from • Designer-Camelot ( Lifetime Warranty) Many color options to choose from • Timberline • Specialty • Architectural • Traditional
Our quotes for roofing work are always competitive with other roofing companies in Lawrenceville and the surrounding areas. We strive for complete satisfaction with the hope that you will recommend us to anyone in need of similar repairs. Call or Submit Today for a Free Consultation! Local: 678-714-9331
To find out more about Reliable Roofers In Johns Creek click here.