Bull Roofing goes above and beyond to make the process of replacing or   repairing a roof completely painless. We take the time to explain every step along the way, making sure you understood what is going to be done and when. Our professional roofers can complete a tear-off and installation of a whole new roof in a single afternoon, including cleaning up every scrap and every nail from the yard. Bull Roofing is your company to call in the North Georgia for anyone looking for roofing work to be done.
We replaced a hail damaged roof in the summer (2014). We took the job on and handled it with the utmost professionalism and the customer thinks the roof looks amazing! We took extra care with the clean up, knowing their children and pets play in the yard on a regular basis. Bull Roofing is a locally owned company, fully licensed and insured company to meet all your roofing needs. We also have a standard 10 year reroof/no leak labor warranty.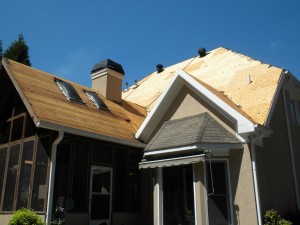 Bull Roofing works on your schedule, showing up when we promise, and completing the job on time for the price we quoted. Our crews are always polite and take the time to answer all of your questions,  allowing us to be more precise  and you to be more comfortable with the work performed. After installations or repairs we pick up every piece of debris to leave your yard spotless.
We can put a new roof on your house and do any  did work on both our front and back decks. They did an outstanding job. Our quotes for roofing work are always competitive with other roofing companies in Buford and the surrounding areas. We don't complete the work until you are fully satisfied. We leave every job with the confidence that you will recommend us to anyone in need of similar repairs.
  We have the knowledge to recommend the best roof shingles for each individual  home from color to design. In many cases architectural shingles can be installed which add that extra appeal.
We use both GAF and Owens Corning shingles. Consider what you are looking for, we will use either of the two brands.  the are both high quality and have great warranties.
If you are looking to get a new roof due to age or any other reason we will be happy to assist various stages and options involved with a new roof.
Call or Submit Today for a Free Consultation and to get an idea of roofing prices! Local: 678-714-9331 
To find out more about the Roofing Company To Trust in Suwanee click here.